Daegan Gets a Playmate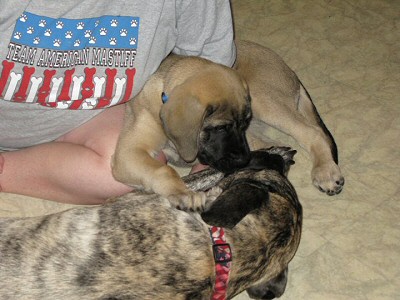 On July 5th, Daegan got her playmate. The saying goes, "Just like Lays potato chips, you can't have just one American Mastiff!". Originally, we were thinking about adding another brindle female puppy. But, after reading about the all problems we could have with 2 females this size, we decided to look for a male. Deepwood Acres, Daegan's breeder, isn't expecting brindles until next year. So, the search began. We found Hidden Acres and the possibility of brindles there, but Diane, the breeder, sent us on to look at a very special fawn male at Lazy M Farms. Kerry, at Lazy M, assured us that this puppy was meant to be with us. And so he is. Here's Kieren!!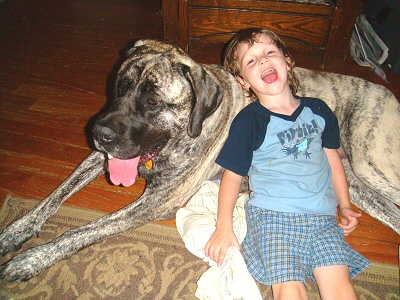 Tired after a hard day of playing!
DAEGAN IS NOW TWO YEARS OLD!

Daegan celebrated her second birthday on July 27, 2010. She was treated to her yearly "real meat" birthday cake. Here she shows Kieren what he has in store 8 months from now. Then, she digs in. Daegan did share a little of her birthday cake with Kieren. He was pretty happy about that!
Now that we have two American Mastiffs, we had to think about transportation. My old Camry was just about due to be traded in, so we made the move up to a Toyota Rav 4. It looks like we will have plenty of room now! Also new, pink and blue paw print collars.