Daegan and Kieren
Kieren turns 4!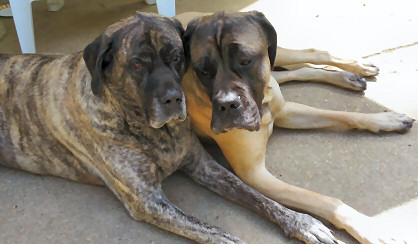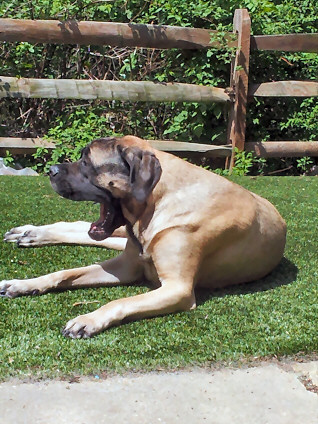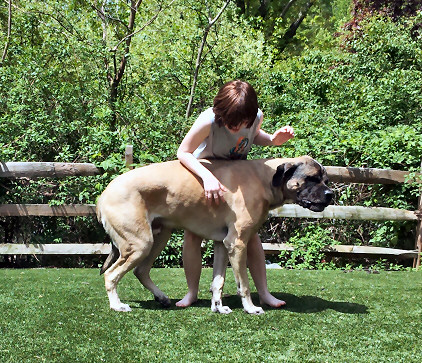 Daegan and Kieren enjoying the early summer sun. What?! I'm how old now? Ah, yes, scratch right here


Daegan's Trials




Daegan had her semi-annual check up in November, 2013. Her platelet count was 3/5, should have been 300/500. OK, bad test. Come back in 3 weeks and we will retest. Today we returned and her count was 17.5. Not good. So, they did X-rays. A large mass was found on her spleen. The good news, no other organs seem abnormal, nor do any of the lymph nodes. In addition, she is gaining weight, not losing as might be expected. (She's up to 187 and looking pudgy!). We are scheduled for a sonogram on Monday at the specialty hospital where she had her tplo surgeries. Until then, she has to be kept calm, quiet, no activity so she doesn't hurt herself and, without platelets, bleed out. Scary.
The ultrasound found no mass. Dr. thinks it must have been a protrusion of the stomach, of something similar. Question...why are her platelets so low? Possible a reaction to a tick (I have never seen one our her or Kieren in all the years they have been here), or an immune problem. More blood tests have been ordered. Fingers still crossed for a solution, but so happy not to have surgery in the future.
Daegan weighed in at 190 pounds! She has been at 175 forever. I think the hospital's scale is off. Pet Smart had her at 187. Still, that is too much for a gal with 2 tplo surgeries behind her. Wonder if what is causing the platelet problem is also adding weight? She is still in the danger zone for low platelet count. We are back to the vet today for more tests.
The tick panel came back and all tests were negative. That's good news. But, we still don't have a reason for the platelet problem. Daegan is to finish her minocycline and then retest for platelet count Dec. 10th. Fingers crossed that the numbers go up significantly.
Dec. 12th. Back from the specialty vet. She concurs that the problem is some kind of auto-immune disease. Daegan is now on Prednisone and Azathioprine with another follow-up in 3 more weeks. I sure do hope this gets my girl back to a healthy platelet count and back to being a healthy dog (although you couldn't tell from the way she acts that there is anything wrong at all!).
Jan. 18th. We're at it again. Now that Daegan's platelets are 300+, I walked by her this afternoon to see her hind leg swollen twice it's normal size and hot to the touch. Off to the vets at 2 P.M., got back home at 7 P.M. Always something, right? X-rays showed no break, thank goodness. The tplo is in perfect shape. Evidence of arthritis in most of her leg joints, but not more than might be expected with her leg surgeries. So, the consensus is that she has had a bite and allergic reaction or twisted it. Add more meds, tramadol as needed for pain (she isn't showing pain responses) and give some benadryl every 12 hours.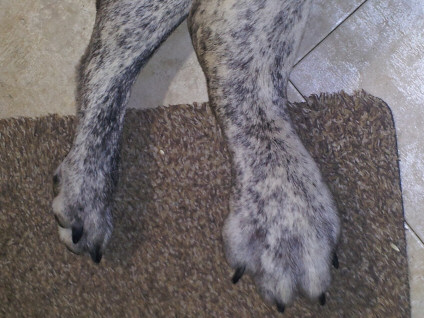 Jan. 21st. A diagnosis, finally. Emergency vet found an abscess under the skin by her ankle. Daeg will spend the next two days at the vet's. They will lance, drain, wrap, and medicate. With our expected snow today, I opted to leave her there until tomorrow, when I was supposed to see the vet who is treating her auto-immune problem. Hopefully all will be on the right track on Thursday.
Daegan is home! We only got a couple inches of snow, but the side streets are pretty much ice. Ron did the driving and once we were on the major highways, the going got better. Daegan is so much perkier than she was two days ago. She has a drain and still a bunch of swelling. Hot compresses and messaging the fluids down her leg is in order for the next few days. Drain is supposed to come out on Saturday. Boy, does she have a truckload of meds, over $700 worth for the next two weeks. Well worth it though if it gets my girl back in tip top shape. Thank goodness for Trupanion pet insurance!
We are continuing the warm compresses and message 4X a day. Daeg is still putting out a small amount through the drain, but the swelling has gone down considerably. I am so lucky to have a dog that will take meds. It took two whole slices of cheese today to get all 17 pills administered. And, of course, Kieren stands by very closely so he can get his treat too!
After the drainage tube was removed yesterday, Daeg was walking around leaving blood everywhere. Back to the vet's we went. The surgeon who found the abscess and did Daegan's surgery happened to be at the emergency vet's hospital today. Her assessment is that every time Daegan gets up and down the soft tissues rub against each other causing the fluid drainage (it's not blood). So, Daegan now has a hard cast with her pretty hot pink wrap for the next couple weeks to allow the incision to heal properly. Amazingly, Daegan walks pretty well with the cast and didn't take long to adjust. Now, it's my job to keep the cast clean and dry. Easier said than done with the rain we have now. At least, it isn't snow and the artificial grass doesn't turn to mud!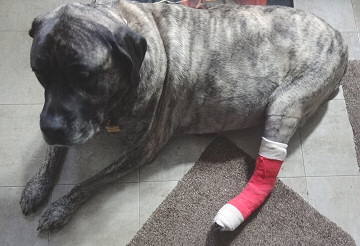 Feb. 3rd. Daeg has been getting 1-2 slices of cheese a day to hide the pills. She is on prednisone. She has gained 10 pounds and looks pregnant!! Vet wants a 25% reduction of food. Sheesh, she is starving now! This is going to be interesting. At least, the tummy will go away once the pred is done.
Feb. 18th. Yea! The cast is off! Now, she has an abscess on her toe, rats! But, the original incision is well healed. Vet thinks it may just be the infection working itself down her leg. Several cleanings a day and triple antibiotic ointment should do the trick. Back to the vet next Monday. Sheesh! What a trial for this poor girl. However, she remains a champ and is really happy not to be lugging that cast around with her.
Specialty vet called yesterday. Now I worry again. He said the lab work came back and Daeg's infection is MRSA. I don't know if that was both infections or just the last. MRSA scares me. I Googled and read that it can transfer between human and animal. She can reinfect herself. I had MRSA once while in hospital and was treated like I had the plague. I also read that MRSA infects those with immunodeficient diseases. That was Daegan's initial problem. Having said all that, Daegan's wound seems to finally be healing. We have a follow up appointment on Monday. I will have to find out about treating her new and old beds (just got her Big Barker), etc. None of us here seem to have been bothered, but I will keep an eye on the kids. Extra precautions are taken when treating the wound. Sheesh!
Feb. 27th. Swelling has begun again in the upper thigh, although the abscess has scabbed over. New drain inserted. I will change the bandages daily rather than drive the 1 hour round trip. Figure I can do that much and not have to drag Daegan around everyday. Still treating the MRSA infection, so bandaging will be done with gloves on. February's total, $948.24. Thank you Trupanion!! We are well over $5,000 now. It is such a relief to know we can continue to do what is best for our girl and not have to worry where the funds are coming from.
Mar. 7th. Drain tube is still in as of this morning. Continue all meds. CBC shows platelets down to 160 last test. Vet is not really, really worried at this point. She wants the med to finish the job ridding the infection and will then work on raising the platelets again. Once more, poor Daegan. I wish you all could see how good she is being. Next appointment next Tuesday.
Vet called. Leg is looking much better, but Daegan will stay on her super antibiotics for another month to make sure the MRSA is completely gone. But, platelet count is down to 35. Here we go again. Vet switched her meds around and upped the prednisone. I had an e-mail from Sandy at Deepwoods and she suggested a grain-free kibble she has been using with one of her older dogs. Couldn't find that particular one around here, but switched Daegan to a grain-free fish and potato kibble with a somewhat reduced intake. We will see. She did lose two pounds at her last weigh-in.
I took a pic of Daegan's leg today and compared it to when this whole thing started last November. Her leg got even bigger after the first picture was taken. Then, hubby always comments about Kieren's legs, so I took another. Kieren's legs really are much straighter than Daegan's.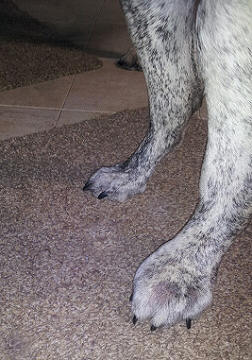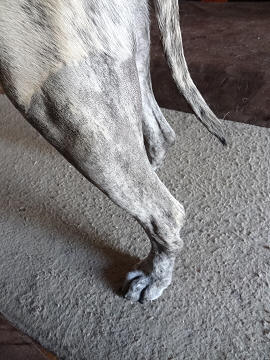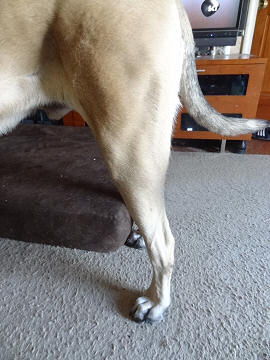 May 6th. After a three week break, we visited the specialty hospital today. I switched Daeg to a no grain, fish and potato kibble. She has gained 10 pounds, now 194! Short of not feeding her, I am at a loss. Vet recommended Science Diet. I checked here on the forum and the two Science Diet types listed both failed with an F. Hubby had a stent placed in his heart last Friday. Now he HAS to walk, so Daegan will be his companion. Perhaps the exercise will help. Vet didn't like what she saw with Daegan's leg. It is getting more misshapen. She thinks there may be a piece of drainage tube as well as scar tissue under the skin. So we go back next Monday to open the leg again and see if they can straighten it out. In addition, she still thinks she hears a faint heart murmur. When will this dog catch a break!
Vet called. Platelets are down again. Another CBC Monday when we visit the surgeon. Possibly back on the very expensive azathioprine as well.
1May 13th. After our visit yesterday, Daegan has another hard splint. They opened up the gnarly areas on her leg, cleaned out what was there, and found some little black globules which were probably not blood clots. That was sent off to biopsy. Continue the pred, add Cephalexin, give pain killer as needed. Rebandage in a week, new blood work in 10 days, and stitches out in two weeks. Send new $1000 bill to Trupanion!!! Good news, platelets are on the rise again. :big_grin: Not so good, Daegan fell three times in half an hour when we got home. Although we have rugs everywhere she walks, she seems to find the spaces between rugs. Also, the bottom of her foot was cotton wrap. So, I covered that section with vet wrap and she seems way more sure footed with the added grip. Daegan is now on the "Jenny Craig" of dogs diet. Limited calories, lots more pumpkin, and green beans for treats. She did lose 6 pounds since the last visit. If her weight doesn't come down more, the calories will be reduced again. By the time all this is over, we will have a svelte, sugar lipped, sassy girl!
May 20th. Vet visit yesterday. Best news, the biopsy came back with no evidence of further problems. I was fearful of the "black nodules" the saw when they cleaned the area last time. The hard splint had rubbed a sore on Daegan's toe, so they have extended the splint and re-wrapped her leg. CBC test Friday, and staples out next Monday. Since she isn't walking because of the splint, she has re-gained 2 pounds, so the diet is now down to 1350 calories. That is just about 4 cups of kibble a day. I need to make a pumpkin and green bean run soon! Once again, I am cautiously optimistic that we are nearing the end of this trial.
May 26th. Staples were removed today and the incision looks like it is healing fairly well. Daegan may have limited exercise again. Her leg still looks gnarly and she toes out from swinging the splints and the extra weight. CBC shows another platelet drop, down to 70. (I can't quite keep up with these numbers. Everyone seems to use a different scale). Back to 2 pred a day and another round of the heavy duty antib, Chloramphenicol. Daegan is losing weight, VERY slowly. I would think 4 cups of kibble a day would drop the pounds quickly, but the pred is hindering that. She is getting pumpkin twice a day and green bean treats as well as a bone every now and again to gnaw on.
June 18th. Daegan's leg is healed (although she has a rather ugly knot of scar tissue around her ankle), Her platelets are now NORMAL!!, and she is down to 184 pounds!!! At long last. Still on the Prenisone, but we are slowly reducing it. Another check in 3 weeks. Yay!!!!!!!!!!!!!!!!!!
July 12th. Great news! Daegan has been released!!! Her platelet count is in the normal range, finally. I can back down on the prednisone to one tablet a day. Melatonin will be on going. There will be another visit for CBC in a month to make sure platelets stay where they need to be, but I think we have finally conquered whatever started this thing in the first place. 6th birthday coming up in 2 weeks. We will really have something to celebrate this year!
July 24th. Not again!!!! Swelling started again. It is still local and I got Daegan back to the emergency vet right away. Didn't want the whole leg involvement like last time. Vet made another appt with the surgeon. They withdrew fluids and wrapped the leg. New antibiotics, change wrap every 4-5 days, lots of cultures to be seen. He said the fluid looked like an infection. He also hears the heart murmur, so that will be the next thing we tackle after this issue is resolved. Poor Daegan. But, as usual, she doesn't act in pain, sick, or even bothered. She has lost enough weight to ease her getting up and down a little. So, on we go.

TO BE CONTINUED...